Bio
Education | Background | Japan's Pilgrimage | Ohashi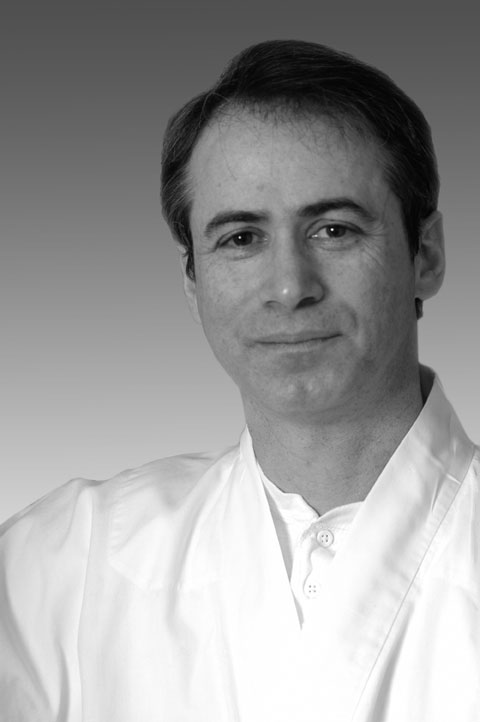 Bruce Woolf is a New York Licensed Massage Therapist, and Certified Shiatsu Practitioner. Bruce has twenty years of professional training and private practice. He has worked for health clubs and was Senior Massage Therapist at Battery Park Swim & Fitness Center. He is a practitioner at the New York Open Center's Wellness Services and has served on the staff of Memorial Sloan-Kettering Cancer Integrative Medicine Program pain management. In addition to his bodywork, Bruce has taught classes in Natural Exercises, Self Massage and Shiatsu, and has been on the review board of Consensus Health for the Massage Therapy Credentialing Committee.
Education, Credentials, and Associations
Ohashi Institute: Shiatsu, Ohashiatsu (NY)
Swedish Institute: Massage Therapy and Shiatsu (NY)
Swedish Institute; Continuing Education
Massage for Dancers and Athletes
School Of Philosophy And Healing In Action - (Five Elements Approach presented by
The Traditional Acupuncture Institute (MD)
Shen Center of Shiatsu:(MA)
Quantum Shiatsu:(CT)
International School Of Shiatsu: (PA)
Institute for Continuing Education: Advanced Massage Therapy (NJ)
Tao Healing: Chi Nei Tsang:Internal Organ Chi Massage (NY/NJ)
La Copeteria: Exchange program, taught as well as attended classes in massage
and Shiatsu:(Spain)
East West Center: Massage (England)
Masanori Kabashima, Shiatsu, Seitai and Sotai @ Buddhist Temple (Japan)
University State Education Department of NY: New York License exam for Massage Therapist
American Massage Therapy Association
Background
My involvement in massage/bodywork first grew out of an interest in health and athletics. In 1989, after participating in a theater performance in Cadiz, Spain I traveled to the north of the country where I first experienced Shiatsu. I then used my time and energy on a daily basis to learn about this artform of bodywork. It was the connection of the Ki (pronounced "key" in Japanese and means "energy" or "life force") that enthusiastically changed my views in what I knew about massage.
In Shiatsu, there were not the strokes of massage or even the use of oils of any kind. A practitioner of Shiatsu uses his hands to connect with the energy that is flowing through another person. This coincides with each individual's capacity to being able to tap into his own energy, and take charge of his or her life - be it with health at the moment, or in the future. Within the core of each individual is their whole life: past, present and prospect for the future. Shiatsu encourages a person to use their senses as a tool so they'll learn to help themselves. This is valuable information that can help with our well being and in healing.
I didn't realize at the time that my prior involvement with nutrition, different dance styles, and qualifying for the Olympic trials in boxing resulted in my earliest interests in massage/bodywork. These activities were on par with the exultation of the adrenaline rush that occurs in athletic events. It also comes to mind when my coach "T T" (Tough Tony) would give massage to his boxers. I remember how good and painful it felt at the same time, and how loose and limber those tight, tender muscles became after the massage. The following day we always showed up looking forward to another workout.
Ohashi
Ohashi was my first first formal teacher I had for Shiatsu. After graduating the Ohashi Institute I was invited to his New York Masters Class in 2002. "Ohashi" means "bridge" in Japanese. At an early age, Ohashi felt his name was a sign for him to reach out to as many people as he could. Ohashi's school is as a bridge to the "West" combining Zen Shiatsu, meditation, gentle exercises and stretches similar to yoga called Makko-ho. He calls his method Ohashiatsu.

Ohashi explains that the word for "human being" in Japanese is the same as the word for "being." Ohashi emphasizes as being there for the other person, and that the importance in each treatment of being natural and reverent.
Japan's Pilgrimage
I have traveled through Japan searching for the most helpful Shiatsu, bodywork, and Sensei (Master Teacher). This came from my interest of the almost mythological beauty of pictures drawn and written about the landscape and people of Japan, China, and India. Historically, Asia had many wise sages who taught the importance of living with nature, and the connection with health and society. Fortunately in Japan, there are still people who have a reverence for traditions, the arts, and the environment. Several learned teachers took me under their tutelage in my quest for further knowledge of Shiatsu and different types of bodywork.
Shiatsu Doctor
One training session was in a village with a honorable man who was nearly a 100 years old. The Shiatsu Doctor shared with me some of his ways. He was referred to as "Doctor" and "Sensei" (Master, or teacher) by the people who came to him for treatments. He was so highly respected in his village that I had to take an oath not to reveal his identity. His patients were guarding him so that he could preserve his energy for the work with them. Amazingly, the Shiatsu Doctor was seeing several clients daily for sessions that lasted for an hour or two each.
The Shiatsu Doctor, a proud man, had a great energy, was an artist, and great storyteller. Several of his clients had been seeing him for over half a century. He appeared to treat everyone, even the Yakuza (Japanese Mafia). Since he felt that the stars and planets was an aspect of the heavens, as health was to Earth, he told their leader that in order for the treatments to hold, they themselves were also responsible. The Shiatsu Doctor said they must feel as fortunate and happy with what they had and be willing to put back into society what they themselves had made in order to reciprocate this "Energy." He didn't say what exactly happened but we know the Yakuza members had stopped coming, except the leader, who remained one of his long time clients.
Monk
Finding the connection of the body and mind with spirituality and Shiatsu was an exhilarating adventure. While descending snow-caped mountains (near Nagano, Japan's Alps), onsens (hot springs) and the 15th century city of Kanazawa with ancient Buddhist Temples and beautiful gardens, I got word that the very well-known Monk in Kyoto was willing to give me a Shiatsu session and an opportunity to study his methods.
Masanori Kabashima is an author of more than a dozen books on health and fitness, which includes Shiatsu, meditation and natural exercise.
Kabashima said he felt it was important to include the body with the mind and spirituality. He built his temple alongside his home about 25 years ago. While receiving the Shiatsu session, I suddenly asked the Monk, "What do you feel? How is my energy?" Kabashima replied, "How is your energy? If you do not know, who do you expect to?" This Koan-like answer without an answer stirred a reverence for the teacher and desire to learn his way.
Home | About Shiatsu | Thai Massage | Bio | Type of Sessions | Book a Session | Testimonials | Contact
Copyright © 2004-2019 Bruce Woolf nycshiatsu.com