Session Types
Traditional Shiatsu
A holistic hands on approach based on traditional Asian bodywork to balance energy in the body. Traditional Shiatsu focuses on "Ki" the Japanese word for energy. Easing flowing movements increases flexibility while hand techniques of varying pressure are used for individual needs. The "Energy work" balances body, mind, and spirit, relieves stress, lessens chronic fatigue. Shiatsu has positive results with back, neck and shoulder pain. As there aren't massage oils or a table in Shiatsu, a Tatami-futon is used and comfortable clothing is recommended.
Shiatsu Lessons: Tutorials, private sessions or classes may be scheduled for your work, business or school. Structure will be designed with your needs and requirements.
Thai Yoga Massage
This ancient therapy from Thailand integrates Yoga from India, Acupressure from China, and meditation from the Buddhist Monks of Thailand. Orchestrated with smooth flowing movements this massage is further elevated with interactive bodywork. The Practitioner provides suggestions while the client remains passive during stretches and yoga poses. Thai Yoga revitalizes the body, stretches the muscles, and facilitate energy flow. Traditional Thai Yoga is done on the floor, fully clothed.
More About Shiatsu...
Shiatsu is a subtle art, encompassing the whole person as the platform to being in touch with the Body-Mind-Spirit. This form of Shiatsu I use is based on traditional acupuncture principles to balance energy in the body (however needles are not used) and therefore is a holistic hands-on approach. Shiatsu may also include therapeutic exercise, meditation or recommendations if requested.
The following are a few of the hundreds of positions that may be included in a Shiatsu session. — Bruce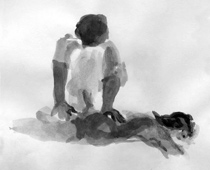 Copyright © 2004-2021 Bruce Woolf nycshiatsu.com